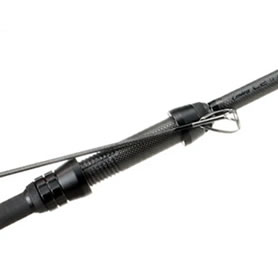 The Master's Rod. The C2 is a generational leap in technology that radically closes the gap on the oldest conundrum in carp rod design: Distance and Playability.
 
The Century C2 carp rod is manufactured in UK in accordance with our quality and environmental management systems and we have complete trace on all raw materials and the manufacturing process. We apply our Autoclave Technology process to cure the 3M™ Matrix Resin which results in what we call Century HPR.
There are two primary material component parts to a fishing rod blank: the carbon fibre and the resin system. The fibre governs the action and the resin system carries the load between the fibres. The 3M™ Matrix Resin system is fortified with quantum particles of silica that deliver considerable additional strength to a well designed rod. Century's testing indicates a rod incorporating this system is 65% stronger can be up to 25% lighter and will withstand a far higher level of bending and loading compared to a rod built with a conventional resin system. When the 3M™ Matrix Resin system is processed inside an autoclave - a rod curing process which is unique to Century, the results are further enhanced. This combination of new resin technology and enhanced curing in an autoclave generates a rod that will resist fatigue and action decay, give substantial improvements in strength and resist incidental knocks far more than conventional resin systems.
The C2 range features our special anti twist technology – the placement of very fine grades of ultra high strength carbon fibre to assist in accuracy. The C2 is also the first carp rod where we have had the material resources to concentrate extensively on the rod's Moment of Inertia (MOI):
MOI is resistance of a rod to rotational acceleration. The greater the MOI of a carp rod the more force is needed to cast that rod. It can be calculated using the rod's total length along with each section's mass, length, and mass centre distance. Using Century's proprietary algorithms and HPR we have kept MOI numbers to an absolute minimum thus increasing the rod's potential by efficiently converting imparted energy to distance.
We have fitted all C2's up with a lightweight ALPS reel seat and recommend Fuji K guides. The size 40 Fuji K guide pattern remove the requirement for the traditional size 50 guide configuration. All our testing and that of Fuji show these guides perform superbly - particularly in cross winds. Century and Danny have established new fixed spool world distance records on this guide style and pattern.
The new Century Command & Control is available in 4 distinct models.
12' 2.75lb T/C and 12' 3.25lb T/C models
Both these models are built on low diameter mandrels and are super slim - circa 13mm diameter just above ALPS reel seat. The initial impression of the action is medium to parabolic but this is deceptive because they pack a lot more punch than the diameter would suggest. We have designed these rods for medium size venues where operating at ranges of up to 130m is sufficient scope. The playing action can best be described as progressively parabolic and pressure can be applied with confidence: the action does not lock up and the rod gradually delivers resistance and sympathetically enhances the player's skills. The 3.25lb T/C model has slightly more capability at the extreme end of suggested range whereas 2.75lb T/C model is geared up for canals, smaller venues or the ultimate in playing action.
12' 3.50lb T/C and 13' 3.50lb T/C models
These versions are adapted to situations that require longer range. The butt diameter just above the ALPS reel seat on 12' model is 15mm. The slightly faster taper and disposition in the multi pattern layup of special accelerator carbon fibres give the rod scope for casting to ranges well in excess of 150m. The same deep progressive action is manifest and the paradox is more evident. How can this action deliver distance and play out as it does? The HPR combination of 3M Matrix Resin and Autoclave Technology enables casting at ranges further than the static action would suggest whist maintaining a sweet playing action.
External Specifications
•1K-1K woven carbon weave to 1st K guide on top section
•Sealed in long life, low scratch PTFE finish
•Shrink rubber/EVA hybrid butt grip
•Fuji SiC Anti Tangle K guide: size 40 graduated to size 12 tip
•Custom laser graphics on ALPS frosted titanium grey reel seat
•Dark grey tyings

 
You can choose to customise this rod, or you can buy online, as standard finish from www.johnsonrosstackle.co.uk