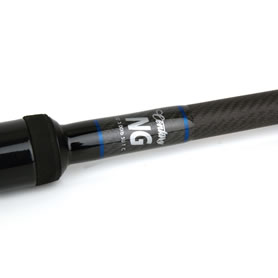 Now recognised as a cult rod and the benefits of the design are apparent to a wide range of specialist anglers. The types of carbon fibre we use are genuinely leading edge. The understated silk finish on the surface of the Century NG seals an incredibly complex arrangement of patterns designed to give the Carp angler the most advanced multi-range rod available. The carbon patterns are cut using a CAD CAM machine that holds extremely tight tolerances. This ensures the action and T/C is faithfully reproduced from rod to rod. Frank Warwick has spent thousands of hours fishing Century NG's and we have feedback from every conceivable scenario likely to be encountered. Frank is recognised as an innovative and demanding angler who will take tackle to the limit. The tests we have completed on his early rods have indicated little or no test curve decay over a period of 3 years – clearly a benefit attributable to Autoclaving. The 12' and 13' Century NG 3lb SU (Stepped Up) have proven extremely effective for medium to long range – without the use of shock leaders. These two models are configured with size 50 to 12 SiC lightweight guides.
One unique aspect to Century NG range is that test curves we allocate to each model represent the dynamic rating. They then play out a fish as though almost a pound lighter.
The Century NG features lightweight size 40 to12 SiC guides that benefit tip recovery. Silk-grey finish, GripFast handle and etched stainless collar and cap.
You can choose to customise this rod, or you can buy online, as standard finish from www.johnsonrosstackle.co.uk