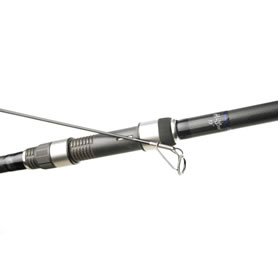 Free Spirit set out (some would say foolishly) to produce a rod capable of casting in excess of 200 yards with a baited rig but that had the taper, look and feel of a normal carp rod. The result after considerable testing is the Hi-'S' 200.
When Mark Hutchinson joined our team he came with a reputation of destroying all the carp rods he used – even boasting he could break through the excesses of casting any rod you put in front of him. Even though he has tried repeatedly he has yet to break the 200's. Built from the same 40t Low Resin Carbon as the other Hi-'S' blanks these rods have a crisp, smooth action with no 'snatch' and are still light and slim with a very fast recovery to eliminate tip bounce that cuts down distance.
With the benefit of a comparatively soft tip they are still capable of playing fish with a little care. In the right hands a very formidable specialist tool when the ultimate distance is essential.
 
You can choose to customise this rod, or you can buy online, as standard finish from www.johnsonrosstackle.co.uk