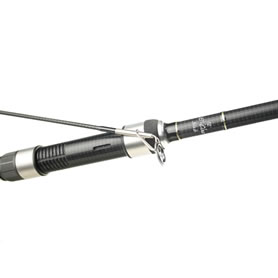 Free Spirit use very high modulus 40t carbons to give smooth, crisp actions, slim diameters and good weight and feel. The rods feature a unique 3k weave with 'Perdurable' finish meaning we do not cover the carbon with paints and lacquers to conceal any imperfections but rather ensure the blanks are finished and precision ground so you can admire the quality of material and finish. This also makes them very durable and immune from the usual scratches, dints and bleaching of other rods – looking good for years to come.

We can do no better than quote recent reviews from Crafty Carper's Top Gear Review and Total Carp's Total Tackle Special*
"These highly impressive carp rods have just arrived at the office and all the team are amazed at just how slim the blanks are: they really do have to be seen to be believed. The 'E'-Class rods have been on the market since early July and have been a huge success, they really do represent value for money and no one at the Crafty team can understand how rods that are this impressive can be sold so cheaply."

The addition of the 3.5lb SU model now gives us a rod which performs like a HI-S-IVE but for a fraction of the price!
 
You can choose to customise this rod, or you can buy online, as standard finish from www.johnsonrosstackle.co.uk